L.M. SEMASHKO
TETRASOCIOLOGY:
FROM A SOCIOLOGICAL IMAGINATION THROUGH DIALOG TO UNIVERSAL VALUES AND HARMONY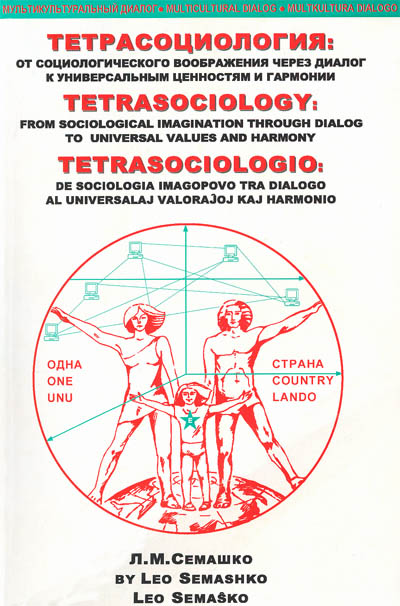 CONTENTS
PART 1.
TETRASOCIOLOGY AS A POSTPLURALISTIC PLATFORM FOR DIALOG o­n WAYS TO PEACE
1.1. From a tetrasociological imagination toward social harmony. Foundations of the tetrasociological theory
1.2. Globalization spheres as spheres of dialog among civilizations (Abstracts, 36th World Congress):
Sociosphere: Spheres of social change
Sphere classes
Children's suffrage
Adequate feminism
Alienation and Appropriation
Infosphere: Social harmony as the key value
Plurotheism hypothesis
New statistics and IT
Study of global spheres
Information security
Orgsphere: Global democracy
Politics of social harmony
Communist Multi-Party of China
Technosphere: Ecological harmony.
PART 2.
DIALOGS WITH TETRASOCIOLOGY
2.1. Toward a new age of enlightenment. Tetrasociology and the web approach. Bernard Phillips, USA
2.2. Tetrasociology and values. Reimon Bachika, Japan
2.3. Tetrasociology's prospects from the viewpoint of political psychology. Alexander Yuriev, Russia
2.4. Power sharing of sphere classes as an alternative to armed conflict. Martha Ross DeWitt, USA
2.5. Tetrasociology and McLuhan's communications theory. Hilarie Roseman, Australia
2.6. Tetrasociology and socionics: Foundations for harmonious teams of dialog. Valerie Isaev, Russia
2.7. Tetrasociology and Esperanto. By Ann Butkevich, Boris Kondratiev, & Valeria Cvetkova, Russia
2.8. Tetrasociology and sociocybernetics. Bernd Hornung, Germany & Bernard Scott, Britain
2.9. Do we need «a grand theory» for sociology? Vladimir Kavtorin, Russia
2.10. Critique of tetrasociology's philosophical foundations. Michael Lebedinsky, Russia
2.11. Tetrasociology: Comparison of social philosophies. Leo Semashko
2.12. "Dialog among civilizations: Key to a safe future." Press release of the International Conference. 23-26 April 2003, Warsaw
PROLOG
The International Publishing Project: Multicultural Dialog of Languages, Communications, Beliefs, and Worldviews (LCBW). Conception
ADDITION
3.2. Scientific-social polylog. Nicholas Govorov, Russia
Up